Celebrating Pets month is continuing into June.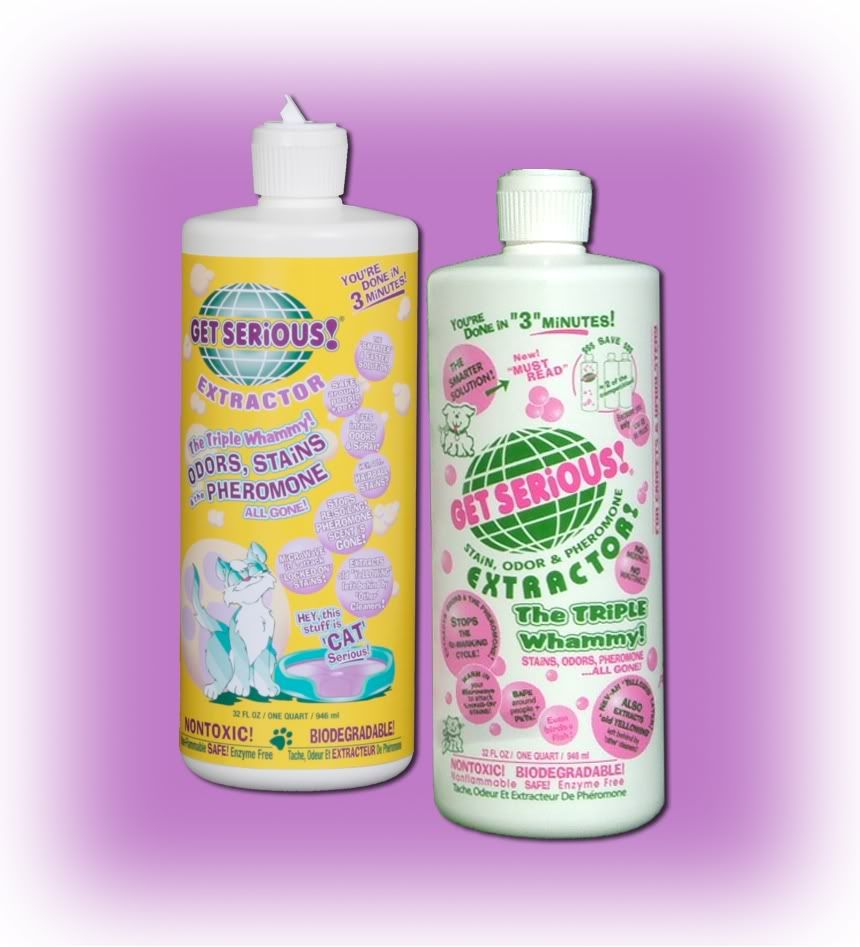 As I have mentioned many times I have three cats. Two of them spend a fair bit of time outside in the summer and one is an inside cat. Two of them have long fur so you can imagine how many hairballs I have to deal with - oy!
I am very fortunate that my cats are very good about using the litter box and I don't have any "mistakes" in that area to worry about.
But those hairballs - boy can they leave a stain! I don't like using chemically things to clean up after myself so I certainly don't like using them to clean up after my pets. I was very excited to try
Get Serious! Extractor
.
Especially when I stepped in a hairball full of orange fur.
Hmmm, who could have gifted me with that?
I have to say that the Get Serious! cleaned the rug so that there was no way anyone could tell that my little angel, Sherpa had hacked up a hairball. I like that. 'Cause I know I am going to be gifted with more hairballs as time goes by. Lucky me!
I have a bottle of
Get Serious
! for one lucky reader! Here's the company information so you can know what I do:
GET SERiOUS! Odor, Stain, & Pheromone Extractor and CAT SERiOUS! are non-toxic! Biodegradable! Nonflamable! SAFE SAFE SAFE Enzyme Free cleaning products. GET SERiOUS! "extracts" the problem! Revolutionary Bubbles penetrate through the carpet padding to the flooring and bubbles the problem up to the surface where you can completly BLOT IT ALL OUT. GET SERiOUS! is the only cleaner that 'extracts' the PHEROMONE - (the scent responsible for pets re-marking and area over and over again!) Easy 3 minute 3 step instructions!
How do you win? It's easy! But first a rule:
US only as I am mailing this myself.
MANDATORY ENTRY:
Go to the Get Serious! site Q&A section and tell me something you learned. Be sure to leave me your email so I can contact you if you win.
EXTRA ENTRIES:
1. Follow my blog publicly. If you already follow, just say so. And thank you.
2. Follow me on twitter and tweet about the giveaway(one per day) - @BrokenTeepee and Get Serious! are helping to clean up after your cat@
http://tinyurl.com/2baaj8s
#giveaway
3. Blog about this giveaway with a link back to Broken Teepee
and Get Serious (this is good for 5 entries so leave 5 comments)
4. Subscribe to my blog by email - Feedburner link is at the top of the page. (

good for two entries so leave two comments

)
5. Enter any of my other current giveaways. Good for one entry per...
6.
Put me on your blogroll and leave a link where I can find it.
7. Add my button to your blog and leave me a link where I can find it. (Good for 3 entries so leave 3 comments)
8. Join my networked blogs - the widget is off to the right.
9. Become my friend on facebook
10.
Follow my goat Pricilla's Blog publicly. If you already do, just say so. And thank you.
11. Subscribe by RSS feed. The button is at the top of the blog.

(
good for two entries so leave two comments)
All entries need to be in by 9PM MDT on June 15th when I will go to Random.org to choose the winner. He/she will have 48hrs to respond or I will choose a new winner.
Good luck everyone.
Disclosure: I was sent two bottles of Get Serious! I used one for the purposes of my review and I am giving the other away. Any opinions expressed are my honest opinions and were not impacted by the receipt of the free product. I received no monetary compensation for this post.