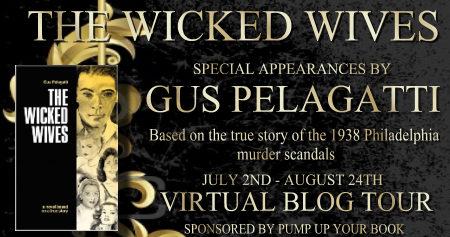 About the Book:
When I was an eight year old boy I overheard adults in my South Philadelphia neighborhood discussing 17 disenchanted and unfaithful neighborhood wives who murdered their husbands for insurance money, love and lust. This was a fascinating topic for an eight year old boy eavesdropping on adult conversation. The adults were discussing the true story of Philadelphia's infamous 1938 murder scandals. My fascination led to obsession. I knew that I had to write about these wicked wives someday.
After I became a trial lawyer in 1964, I researched the poison murder cases in the law library and obtained newspaper accounts of the scandals dating back to October, 1938. Thereafter I conducted interviews with judges, lawyers, police, witnesses, sheriff deputies and neighbors who knew the defendants.
One of the chief conspirators was a tailor who seduced, then persuaded at least twelve wives to poison their husbands for insurance. The setting for his seductions was the couch in the rear of his tailor shop, located two blocks from our family home.
A fascinating conspiracy unfolded in these murder cases. The poison gang's colorful and hilarious characters helped to deep-six a minimum of 20 husbands. The supporting cast includes Giorgio, "The Don Juan of Passyunk Avenue. " Aside from scheming Lillian, "the society wife", the wives include Rose, the "Kiss of Death Widow, " Eva "the nymphomaniac" and the "hopelessly in love, " Joanna.
After many comical episodes, intriguing detective work and two suspense filled high profile trials, 12 wives plead or are found guilty of murdering their husbands. Two male conspirators were executed in the electric chair.
"The Wicked Wives" gleefully explores the sins of lust and greed, and the disappointments that love often brings. The characters, although they commit murder and adultery, are extremely likable, and often amusing. Writing "The Wicked Wives" was a true labor of love.
About the Author:
Gus Pelagatti is a practicing trial lawyer with over 47 years of experience trying civil and criminal cases including homicide. He's a member of the Million Dollar Advocate Forum, limited to attorneys who have been recognized as achieving a standard of excellence as a trial expert. He has spent years researching the true story of the 1938 insurance scam murders, interviewing judges, lawyers, police and neighbors involved in the trials.
Gus was born and raised within blocks of the main conspirator's tailor shop and the homes of many of the wives convicted of murdering their husbands.
His latest book is The Wicked Wives.
My Opinion:
What a tale! Based in fact this is the story of 17 (!) wives led to murder by for insurance money. The Depression was not the best time to be alive in the city of Philadelphia - it was hard to find food and work was just as scarce. Somehow this scheming group of women with the help of a lothario tailor managed to murder their husbands for the money that would come to them from the insurance company.
Life is truly stranger than fiction. If any one had made this up they would have been laughed out of an editor's office. This IS a fictionalized account based on what really happened.
Mr. Pelagatti builds his story in a very noir style staying true to the time period and cadence that is Philadelphia. I was interested in reading the book since Philly is where I was born. It's always nice to go back even if only in a book. The descriptions are accurate and the story rings true to time and place. Where I had problems was in trying to keep track of all of those murdering women! And their poor doomed husbands. There are just so many of them.
That being said it was a book I had trouble putting down. Just the knowledge that it actually happened makes you want to know how it all played out. The inter-relationships are just amazing. Family plays an important role in more ways than one. It was good that there was one man willing to fight for these poor dead men or they would have fallen by the wayside.
You can see the Tour Schedule HERE
You can purchase The Wicked Wives on Amazon.com
Disclosure: I received a copy of The Wicked Wives from the author through Pump Up Your Book Promotions gratis. Any opinions expressed are my honest opinions and were not impacted by my receipt of the free book. I received no monetary compensation for this post.